Premium Members


Sponsored Links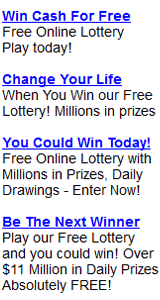 South Dakota (SD) Dakota Cash Past 30 Day Winning Numbers
South Dakota (SD) Dakota Cash Past 30 Day Winning Numbers
From: TUE 11/07/23 ~ Thru: THU 12/07/23
WED 12/06/23
17-19-20-21-23
SAT 12/02/23
08-19-23-24-28
WED 11/29/23
07-08-14-20-30
SAT 11/25/23
10-12-14-26-29
WED 11/22/23
03-17-28-29-35
SAT 11/18/23
02-07-14-15-28
WED 11/15/23
08-18-26-31-34
SAT 11/11/23
08-09-17-30-34
WED 11/08/23
09-17-20-27-31
How to Play South Dakota Dakota Cash?

Jackpots start at $20,000, and all prizes are paid in cash. Tickets cost $1 for each play. Drawings are held every Wednesday and Saturday night.



Use a play slip to pick five numbers from 1 to 35; or


Ask your retailer for a Dakota Cash quick pick.


You can buy tickets up to 9:00 p.m. (CT) / 8:00 p.m. (MT) on the nights of the drawings.


You can play up to nine consecutive draws in advance. Just ask your retailer.





LottoStrategies.com - More About South Dakota (SD) Dakota Cash Lottery

LottoStrategies.com provides the below information:

South Dakota Dakota Cash drawing results (winning numbers), hot/cold Numbers, jackpots
South Dakota Dakota Cash Prizes and Winning Odds, wheeling system, payout, frequency chart, how to play, how to win, etc.