Premium Members


Sponsored Links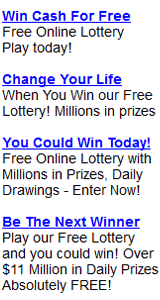 New Jersey (NJ) Pick 6 Lotto Past 30 Day Winning Numbers
How to Play New Jersey Pick 6 Lotto?

Pick-6 Lotto makes MORE New Jersey players MILLIONAIRES than any other game! The jackpots start at $2 million and keep growing until someone wins. There are even cash prizes for matching just three numbers.

It's easy to play Pick-6 Lotto. Just ask your New Jersey Lottery Retailer for a Pick-6 Lotto bet slip. Each bet slip is divided into five separate panels. Each panel contains a field of numbers from 1 to 49. Select six numbers from each panel. Play one to five panels.

Run out of numbers to play? Then ask for a "Quick 6!" The Lottery computer will randomly select six numbers for you. It's quick, easy, and convenient. You can Quick Pick as often as you like!

Each Pick-6 Lotto bet is just $1.00. That means each panel you complete on your bet slip costs $1.00. Please make sure to check your tickets before leaving the store to ensure that the proper numbers and dates have been selected.

You can play the same Pick-6 Lotto numbers for up to 8 consecutive draws. Just mark the number of draws on your bet slip corresponding to the number of drawings you wish to play. This will include the current draw and will not skip any draw(s) in between.

CHOOSE HOW TO GET PAID

Select how you want to get paid when you buy your ticket - either Annuity or Cash. Select Annuity if you want to be paid the jackpot amount over a 26-year period, or select Cash if you want to be paid the jackpot amount in a lump sum.

Why Is This Choice Important?

Winners who choose Annual Installment Payments will be taxed on each year's winnings as they receive them. Winners who choose Lump-Sum Payments will be taxed on the entire amount all at once.

Why Is the Cash Option Jackpot Less Than the Advertised Jackpot?

Pick-6 Lotto jackpots are advertised at the estimated amount of the 26-year Annual Installment Payments. With Installment Payments, the first annual payment is approximately 1/26th of the estimated jackpot amount. For the remaining 25 years, we buy Government Security or Treasury Bonds, which earn interest annually. That annual return is the amount winners receive each year.

Example*:

If the New Jersey Lottery estimates a jackpot of $11 million, the approximate Lump-Sum cash value is $6.3 million. With the Lump-Sum Payment, the winner may receive the $6.3 million in one payment, less the required 25 0.000000ederal tax withholdings. With the Installment Payments, the winner receives $11 million over a 26-year period, less the required 25 0.000000ederal tax withholdings.

HOW TO CLAIM YOUR PRIZE

When you win, sign the back of your ticket immediately. Then take it to any New Jersey Lottery Retailer for validation. New Jersey Lottery winners can claim a prize worth $599.50 or less at any New Jersey Lottery Retailer and be paid cash at the time of the claim. A winner claiming a prize over $599.50 can do so at their New Jersey Lottery Retailer or at Lottery Headquarters. However, they must fill out a claim form, and the winnings will be reported to the Internal Revenue Service. It takes approximately three weeks to receive a check from the New Jersey Lottery. Top-prize Pick-6 Lotto winners must contact Lottery Headquarters in Lawrenceville and present their ticket in person. Proper identification for tax purposes must be presented at the time of the claim.



LottoStrategies.com - More About New Jersey (NJ) Pick 6 Lotto Lottery

LottoStrategies.com provides the below information:

New Jersey Pick 6 Lotto drawing results (winning numbers), hot/cold Numbers, jackpots
New Jersey Pick 6 Lotto Prizes and Winning Odds, wheeling system, payout, frequency chart, how to play, how to win, etc.