Premium Members


Sponsored Links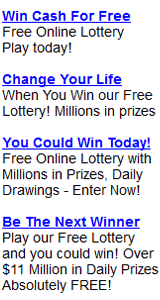 Florida (FL) Lotto Past 30 Day Winning Numbers
Florida (FL) Lotto Past 30 Day Winning Numbers
From: TUE 11/07/23 ~ Thru: THU 12/07/23
WED 12/06/23
02-23-30-44-45-48
SAT 12/02/23
01-20-41-42-45-49
WED 11/29/23
13-17-24-40-46-48
SAT 11/25/23
04-12-24-27-30-32
WED 11/22/23
03-04-06-30-36-52
SAT 11/18/23
05-21-31-32-34-48
WED 11/15/23
35-39-41-42-44-49
SAT 11/11/23
08-16-22-27-43-53
WED 11/08/23
03-17-18-26-39-53
How to Play Florida Lotto?

FLORIDA LOTTO gives you millions of reasons to play twice a week. All it takes is a dollar and a dream. You never know, the next FLORIDA LOTTO millionaire could be you!



Select six numbers from 1 through 53 in one panel on your FLORIDA LOTTO playslip.
Or mark the Quick Pick box in the panel and let the terminal randomly pick some or all of your numbers.
You can play up to 10 panels (A-J) on each playslip. Each play costs $1.
You can play the same numbers for more than one draw. To play up to 52 consecutive draws, mark the Advance Play area on your playslip, or tell the retailer how many advance draws you wish to play.

Drawings are held Wednesday and Saturday nights at 11 p.m. Eastern Time and carried on 13 Lottery-affiliate TV stations. You can purchase tickets until 10:40 p.m. Eastern Time on the night of the draw. Tickets purchased after 10:40 p.m. will be for next draw.

If you claim a prize on a winning Advance Play ticket before all of the draws on the ticket have occurred, you will be issued a continuation ticket for the remaining draws with the same play numbers as the original ticket.

How to Win?

Players win the FLORIDA LOTTO jackpot by matching 6-of-6 winning numbers in any order. Players also win cash prizes for matching three, four or five of the winning numbers drawn in the official drawing for the date played.

FLORIDA LOTTO pays multi-million dollar jackpot prizes. The advertised jackpot is an estimate of the amount the Lottery will pay a single jackpot ticket in 30 annual payments. This is based on projected sales for that draw period, plus funds rolled over from previous drawings, if any, and the anticipated interest rate for long-term investments.

You can choose to receive your portion of the FLORIDA LOTTO jackpot in a one-time Cash Option payment, or you can receive it in 30 annual payments. You have 60 days after the winning draw date to elect the Cash Option payment. The Cash Option payment is each jackpot ticket winner's portion of the prize pool that is available immediately for investment (approximately half of the advertised jackpot amount.) Appropriate federal income taxes will be withheld from both Cash Option and Annual Payments at the time payments are made.




LottoStrategies.com - More About Florida (FL) Lotto Lottery

LottoStrategies.com provides the below information:

Florida Lotto drawing results (winning numbers), hot/cold Numbers, jackpots
Florida Lotto Prizes and Winning Odds, wheeling system, payout, frequency chart, how to play, how to win, etc.