Premium Members


Sponsored Links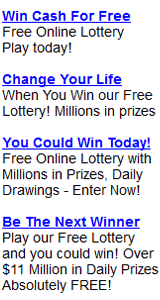 Connecticut (CT) Lotto Past 30 Day Winning Numbers
Connecticut (CT) Lotto Past 30 Day Winning Numbers
From: TUE 11/07/23 ~ Thru: THU 12/07/23
TUE 12/05/23
01-02-04-06-30-37
FRI 12/01/23
15-17-22-26-31-43
TUE 11/28/23
13-15-17-36-41-44
FRI 11/24/23
11-13-30-37-41-43
TUE 11/21/23
09-10-19-22-24-27
FRI 11/17/23
03-11-15-28-32-40
TUE 11/14/23
04-06-14-16-18-21
FRI 11/10/23
12-13-22-25-32-43
TUE 11/07/23
16-28-33-38-39-41
How to Play Connecticut Lotto?

Playing is easy. Stop by any Lottery retailer and fill out a Classic Lotto Play Slip by choosing six different numbers from 1 to 44 in each individual play section or board. Choose your numbers carefully. Lotto wagers cannot be canceled. You can play up to five boards on each selection slip. Once you've made your selections, give your slip to your retailer, along with $1 for each play. Your Play Slip will be entered into the terminal, which will issue your printed Classic Lotto ticket.

Want to make it even easier? Ask for a "Classic Lotto Quick Pick" ticket and let the computer randomly pick numbers for you.

Choose your payout

When you win a Classic Lotto jackpot, you have 60 days from the time you present your claim at CT Lottery Headquarters to decide whether you want your prize as an ANNUITY or CASH LUMP SUM payout. Select the "ANNUITY" option, and you'll receive your jackpot prize in 21 equal annual payments. Or, pick the "CASH LUMP SUM" payout, and you'll receive your prize in a one-time payment. (The CASH LUMP SUM payout option is equal to approximately one-half of the estimated annuitized jackpot.) If you don't make a choice, you'll automatically receive the ANNUITY payout option.

The annuitized jackpot prize is parimutuel and starts at $1 million. It is won by matching all six numbers. If you are the only winner, you'll receive the entire first prize pool. If you are one of several winners, however, you'll receive one share of the first prize pool. Or, if no one wins the jackpot, it rolls over and keeps growing until there is a winner.

Drawing Times

Classic Lotto drawings are held Tuesday and Friday nights at 10:38pm.



LottoStrategies.com - More About Connecticut (CT) Lotto Lottery

LottoStrategies.com provides the below information:

Connecticut Lotto drawing results (winning numbers), hot/cold Numbers, jackpots
Connecticut Lotto Prizes and Winning Odds, wheeling system, payout, frequency chart, how to play, how to win, etc.