Premium Members


Sponsored Links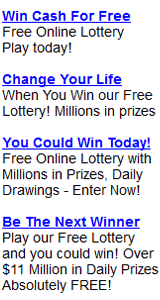 Vermont (VT) Paycheck Past 30 Day Winning Numbers
How to Play Paycheck?

Draws are held every Tuesday and Friday at 6:50 PM with a cutoff of 6:45 PM to purchase

tickets for that evening's draw. All draws are based on Eastern Time.

Pick 5 of 39

On a Paycheck play slip mark five (5) numbers of your choice from 1 to 39 in a single panel. You

may play up to five (5) panels on a single play slip. The cost is $2.00 per play.

Easy Pick

On a Paycheck play slip, mark the EASY PICK (EP) box on each play to let the computer terminal

randomly pick five (5) numbers. You can select EASY PICK for any or all of the numbers.

Multiple Draws

You may purchase a ticket good for up to 20 draws by marking the draw number under the DRAWS

column on the play slip. The cost will depend on the number of panels and draws you play. The

maximum value of a single Paycheck ticket shall not exceed $100.

Paycheck Matches, Prizes and Odds (based on a $2 play).

The overall odds of winning a prize are 1 in 8.77.

*If there are multiple winners of the match 5 prize on any given drawing, the match 5 prize money

will be divided equally among all the match 5 winners for that drawing.

Important!

Check your ticket(s) carefully. Be sure your ticket accurately reflects the numbers you want to play.

Your play slip does not constitute evidence of a ticket purchase or of numbers selected. The ticket

must contain all of the following items: a drawing date (or range of dates); five (5) 2-digit numbers

for each play selected; your play amount; a bar code; terminal number; 6-digit control/security

number; date and time of ticket sale; and a 15-digit control number.

Cancellation Policy

Tri-State Paycheck tickets may be cancelled. Cancellation is restricted to the date and location of

purchase. Paycheck tickets purchased for a drawing on the purchase date must be cancelled prior to

that day's drawing.

How to Find Winning Numbers

Each Tuesday and Friday evening at 6:50PM (ET), five (5) numbers from 1 to 39 will be drawn. You

win by matching the numbers drawn with the numbers on your Paycheck ticket for that draw date.

How to Claim Your Prize

Sign the back of your Paycheck ticket in the space provided. YOU MUST PRESENT THE

IMPORTANT: All prizes must be claimed within one (1) year of the winning draw date on the ticket.

YOU MUST BE 18 YEARS OF AGE OR OLDER TO PURCHASE VERMONT LOTTERY TICKETS

LottoStrategies.com - More About Vermont (VT) Paycheck Lottery

LottoStrategies.com provides the below information:

Vermont Paycheck drawing results (winning numbers), hot/cold Numbers, jackpots
Vermont Paycheck Prizes and Winning Odds, wheeling system, payout, frequency chart, how to play, how to win, etc.