South Dakota Lottery, SD Lotto Winning Numbers, Picks, Odds, Frequency
Today's draw dates are in red italic.
Last Updated at Tue Feb 20 08:50:40 2018

Select a state for latest results

Select a state to view the last drawing results. You can enter up to 10 sets of ticket numbers to find out if you have won.



Latest U.K. & Irish Lottery Results


Latest U.S. & Canada Lottery Results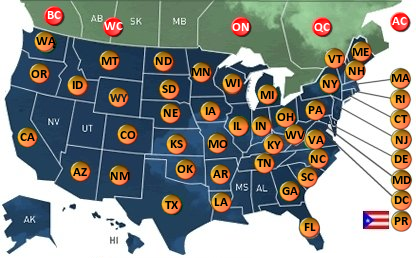 South Dakota (SD) Lottery General Information
In November 1986, 60 percent of the electorate in a statewide referendum voted to amend the state constitution to allow for South Dakota Lottery.

In 1987, legislators authorized the creation of the South Dakota Lottery, its commission and the sale of instant tickets. On Sept. 30, 1987, six months after the legislation was signed into law, the Lottery sold its first instant ticket. The Lottery repaid its $1.5 million start-up loan plus interest to the state in three months.

The South Dakota Lottery's third product line -- lotto -- was authorized by legislators in 1990. Soon afterward, the South Dakota Lottery joined the Multi-State Lottery Association to offer Lotto*America. In November 1990, the first Lotto*America ticket was sold. The multi-million dollar game was replaced by Powerball in April 1992. In April 1993, Dakota Cash became South Dakota's very own cash lotto game. The South Dakota Lottery joined with Montana and Idaho in February 1994 to offer Tri-West Lotto. Tri-West was changed to Wild Card in February 1998 and revised as Wild Card 2 in May 1999. Daily Millions was added to the lotto line-up in September 1996. It was replaced with Cash 4 Life in March 1998, Rolldown in September 2000 and Hot Lotto in April 2002.

The Lottery is a totally self-funded agency. No tax dollars are used for its operation.



LottoStrategies.com - About (SD) South Dakota Lottery
South Dakota (SD) state(lotto) lottery official websites: SouthDakotalottery.com, SDlottery.com, SouthDakotalotto.com, SDlotto.com, SouthDakotalottery.org, SDlottery.org, SouthDakotalotto.org, SDlotto.org. We also provide these information about South Dakota lottery: contact, address, phone number. Please refer to Resource Center.
South Dakota (SD) lottery currently offers these lottery games:

Powerball is drawn -1: AM

MEGA Millions is drawn -1: AM

Lotto America is drawn -1: AM

Wild Card is drawn -1: AM

Dakota Cash is drawn -1: AM


We also provide these information for the games above: winnning numbers, hot/cold/overdue numbers, jackpot, how to play, how to win, most winning numbers, prizes, winning odds, payout, frequency chart, lotto wheels, etc.